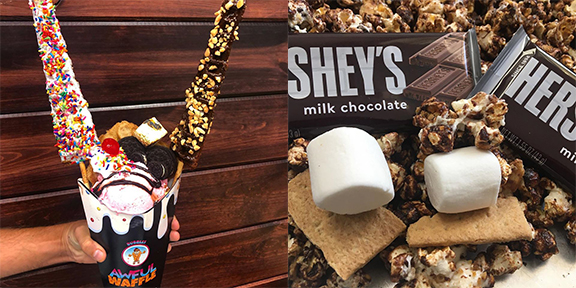 Awful Waffle/Popculture – Sweet & Savory Treat Shop Opens Today
Pedro Miranda, the mastermind behind weekend market fan-favorite Awful Waffle bubble waffles and waffle pops and its sister company, Popculture Specialty Popcorn is opening his first brick and mortar location in the urban food hall, NoHo Junction, 1500 West Cass Street on Friday, July 17.
If you haven't heard of bubble waffle cones or waffle pops, imagine a luscious waffle cooked in a special spherical mold waffle maker instead of typical square one. A chocolate or vanilla bubble waffle surrounds your choice of ice cream, sauce, and toppings. Bubble waffle cone toppings range from fruit and nuts to marshmallow, chocolate, cookies, candy, sprinkles, and cereal. Don't forget the whipped cream and cherry.
A waffle pop is a hearty chocolate or vanilla strip of your childhood favorite square waffle on a stick, covered in array of toppings from nuts to bacon and cereal. Any bubble waffle or waffle pop can be completely customized to the customer's preference.
To complement the sweet, Popculture Specialty Popcorn adds another delicious component. With original popcorn flavors ranging from the beloved movie-style popcorn to more unusual like dill pickle, salt and vinegar, sriracha cheddar, smores, red velvet, and birthday cake, Popculture features 15 uniquely-named flavors.
Pedro even suggests designing your own customized combination of bubble waffle and popcorn and is open to suggestions for more decadent flavor profiles.
Open seven days a week, Pedro is excited about putting down permanent roots and supplying the Tampa Bay community with a delicious fusion of sweet and savory to satisfy all customers' tastes.
"It's our goal to serve you not only fun, indulgent treats, but to make Awful Waffle and Popculture a place synonymous with smiles and creating new memories with family, friends, and coworkers," he said. "We are so excited to be joining the NoHo Junction family."
During Friday's grand opening, customers can enjoy 50% off of all items on both menus from 5 pm – to 11 pm. Muralist local artist Frankie G will be painting a mural of the Awful Waffle mascot, a jovial chocolate, fudge-covered, baseball-capped and tennis-shoe-wearing bubble waffle cone.
Following all pandemic safety precautions, socially-distanced customers can also take a spin on a prize wheel and enjoy the unveiling of secret menu items.
Awful Waffle is open 11am-10pm Monday to Thursday, Friday and Saturday 11am-11pm, and Sunday, noon to 9pm.
https://nohojunction.com/wp-content/uploads/2020/07/AWPC.jpg
288
576
admin
https://nohojunction.com/wp-content/uploads/2022/06/noho-junction-cass-st-food-hall-logo-1-300x300.png
admin
2020-07-17 10:20:15
2020-07-17 10:20:15
Awful Waffle/Popculture – Sweet & Savory Treat Shop Opens Today